5 Top Crypto to Buy This Week [SHIB, DOGE, STX, MATIC, ZEC] October 2021 Week 4
The crypto market has been in a flurry in the past couple of days. Bitcoin hit a record value of $62,888.88 over the weekend, following the announcement of the imminent launch of the
2. Dogecoin (DOGE)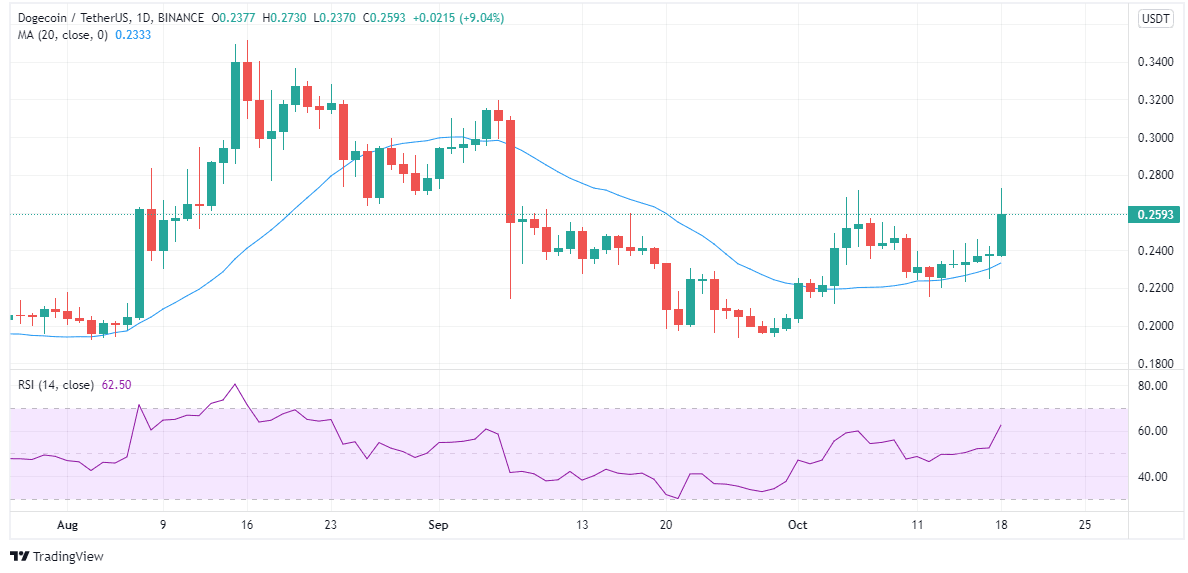 Dogecoin is another top crypto to buy the last week of October. The digital asset has competed with rival meme coins for the spotlight, surging to 12.44% in the past week. This rally by Dogecoin indicates a strong market interest in the Bitcoin knock-off.
Originally intended to mock the sudden proliferation of alternative currencies (altcoins) following the success of Bitcoin, Dogecoin has become something of an enigma. It has attracted strong interests from Elon Musk himself alongside billionaire investor and Dallas Mavericks owner, Mark Cuban. Dogecoin is also one of the most supported virtual currencies in the global payment market, making it a top crypto to buy with future growth potential.
.@elonmusk's recent cryptic tweet was interpreted as #SHIB or #DOGE to the moon 🌙 by many.

(_/)
( •_•)
/ >🚀

Resulting in a 5% gain for SHIB & a sudden 12% price increase for DOGE 🐶.

Billionaire @mcuban also defended @dogecoin against #BTC maximalists on Twitter! pic.twitter.com/VGlms2ncCi

— Delta Investment Tracker (@get_delta) October 18, 2021
At press time, DOGE is up 11.04% in the last 24 hours and trades at $0.2593. Strong bullish propulsion sees the virtual asset sit comfortably above the 20-day MA price of $0.2338. RSI stands at a soaring 62.96 with an uptick in the market's interest. DOGE's strong price push largely depends on Mark Cuban, who reportedly tripled his holdings in the meme coin. According to the Mavericks owner, DOGE is 'fun' and could be an early entry point to learn about cryptocurrencies and their impact on the market.
3. Stacks (STX)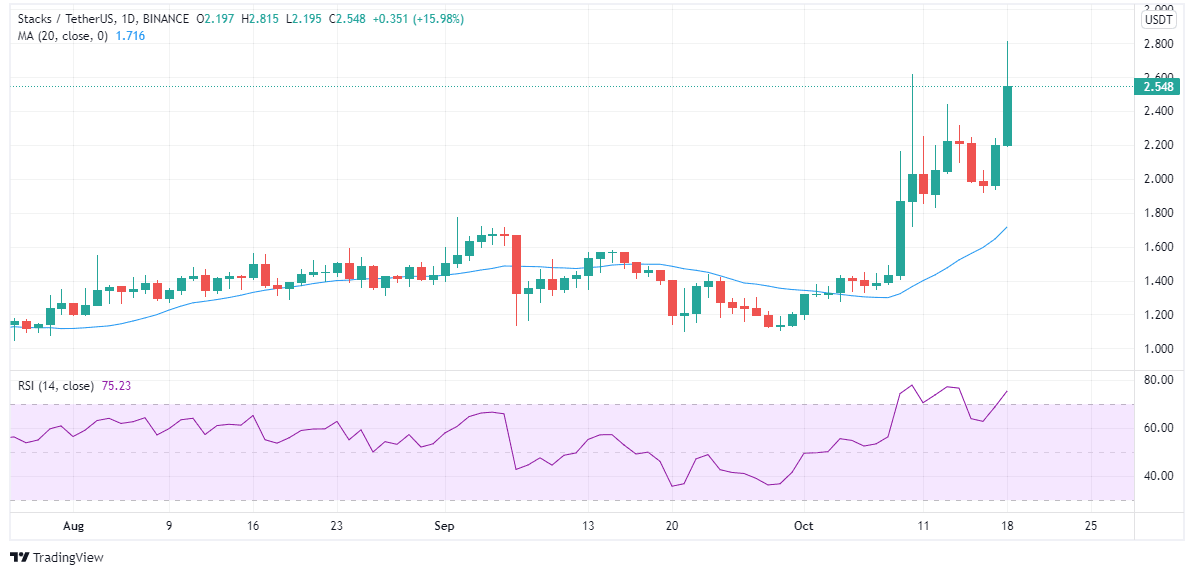 Stacks blockchain has been blowing hot in the last few weeks, attracting the attention of investors. On a mission to make the Bitcoin network programmable, Stacks builds on the ancient blockchain while enabling the deployment of smart contracts needed to develop decentralised applications (dApps).
The Stacks blockchain has come into the blockchain limelight after keying into the growing frenzy around non-fungible tokens (NFTs). The launch of its first set of Bitcoin NFTs increased the popularity of the digital asset. Many investors now view STX as a top crypto to buy for the long-term success of the Bitcoin network.
In the past 24 hours, STX pumped to 23.07%, rallying to a record value of $2.548, a few cents away from its all-time high (ATH) of $2.67. Weekly gains are also blowing hot, with STX up 27.87% even as Bitcoin leads the crypto market back to winning ways. The Stacks blockchain recently partnered with Brink to fund a new Bitcoin developer fellowship through a "stacking" rewards initiative. This is expected to enable a Bitcoin yield on the Stack blockchain.
4. Polygon (MATIC)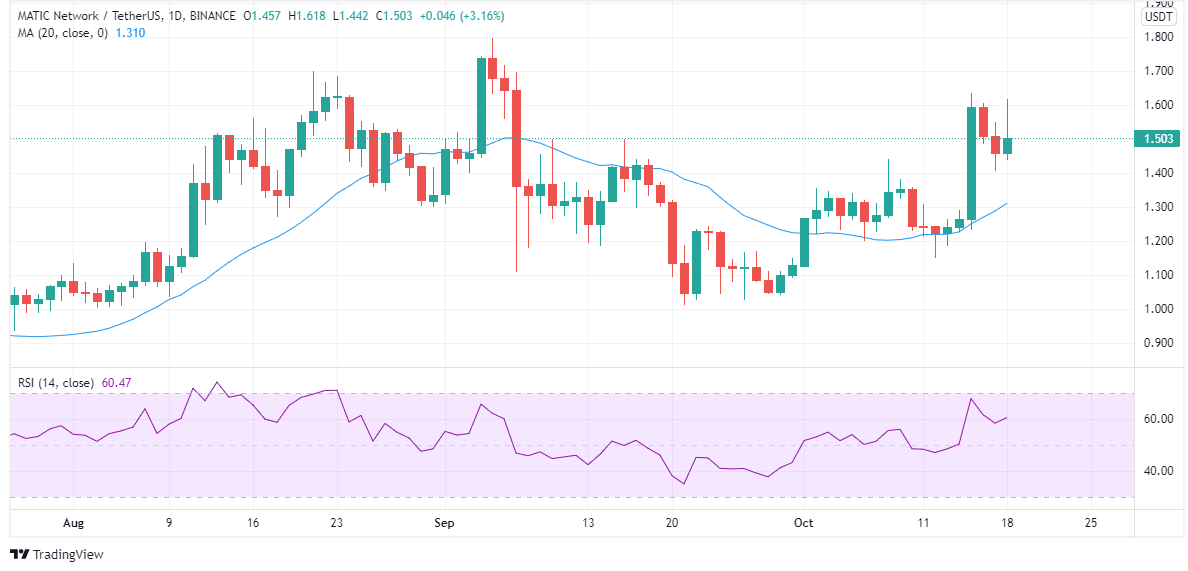 Layer-two protocol Polygon network has largely proven itself as a top crypto to buy for much of this year. Tasked with relieving the parent blockchain's validation exercises, Polygon essentially bundles transactions and verifies them before adding them to the Ethereum network.
Polygon operates on a modular framework, boasting 65,000 transactions per second (TPS) throughput and is a viable option for many dApps to save on gas fees.
Governance token MATIC has seen an admixture of market sentiment in the last few weeks, with the bulls largely having a large share of the market. The digital token is up 0.17% at press time and trades at $1.503, with the weekly gains standing at 18.08% following a remarkable price surge.
PECO – Polygon Ecosystem Token – a single token that captures the ecosystem projects on Polygon.

Find out more here: https://t.co/SLdzoM8OwF https://t.co/RLZ9eIZbqp

— Polygon | $MATIC (@0xPolygon) October 18, 2021
In the past week, an index token has been launched on Polygon. Dubbed Polygon Ecosystem Index (PECO), it will track the performance of Polygon native projects.
5. Zcash (ZEC)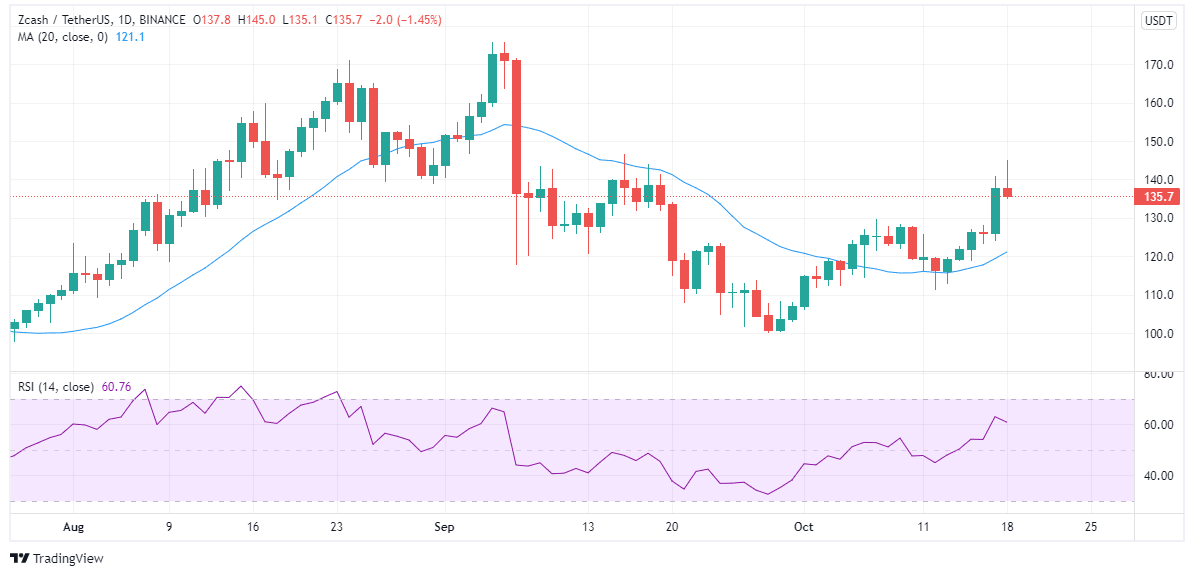 Following the ethos of Satoshi Nakamoto, Zcash is a decentralised cryptocurrency built with privacy and anonymity in mind. It leverages the zero-knowledge tech to verify transactions while keeping sensitive information hidden. Given its preference for anonymous blockchain transactions, privacy-based investors see it as a top crypto to buy as the world pivots away from traditional finance.
ZEC has made a remarkable recovery so far this month after beginning October on a weak foot. It is up 3.77% in the last 24 hours and trades at $135.7. This is seen in its price gain above the 20-day MA price of $121.1 in the previous week. The seven-day increase stands at 10.50%, with a resilient RSI figure of 61.26.
The asset recently approved a grant to develop a set of libraries for Zcash apps and a payment processor compatible with BTC PayServer and BitPay API. This initiative was done to boost the adoption of the ZEC token.
Read more:
How to buy Dogecoin
How to buy Shiba Inu